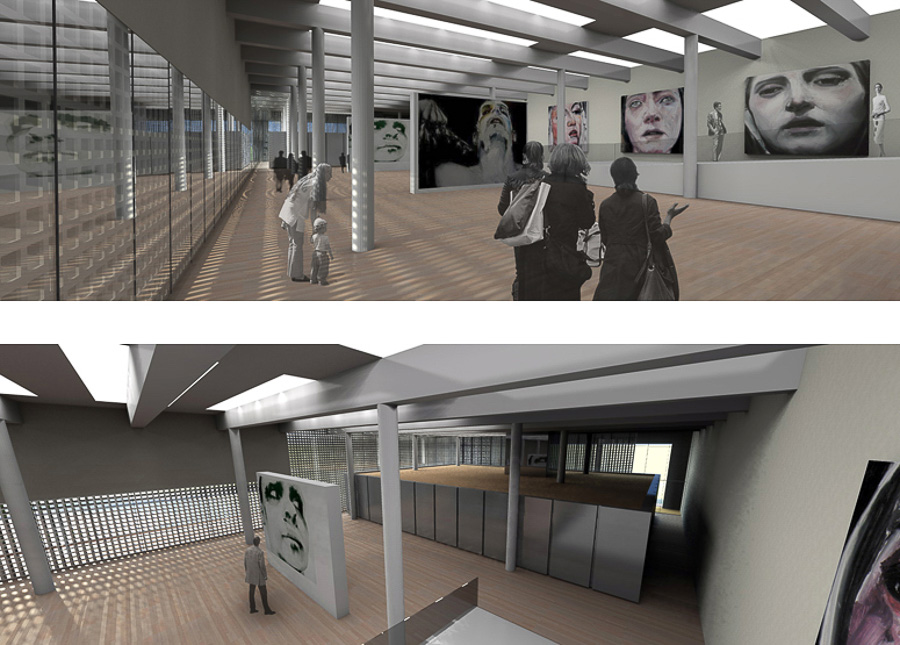 Project fot the Santiago Ydanez Museum
International competition
2010
Puente de Génave, Spain
team
G2BA Architetti Associati
Franchi Associati
Chiara Tesi
Francisco Fernàndez
Marìa Fernàndez
client
Ayuntamiento de Puente de Génave
The project idea is to build a factory that produces figurative art and not just a place where it can be displayed. The large central hall that will host Santiago Ydañez's collection is a place for artistic performances and exhibitions. The room includes a sloping surface which leads visitors to the first level. From here you reach an existing olive grove on the hill where the exhibition continues. The building is an integral part of the hill, the interface with the town of Puente de Génave. A metal box is placed in the main room in order to house those local artists that are invited, laboratories and classrooms.
The entrance to the museum goes through a patio on the west side that in the summer can be covered with shading curtains. The patio offers multiple functions: bar - restaurant, conference room, and gives direct access to the olive grove on the hill. Stairs and elevators connect to a media center and to the service area located in the basement.
The project follows the principles of sustainability leading to energy efficiency and maintaining low consumptions with the consequent reduction of management costs. Several features aim to energy and environmental sustainability starting from the compact conformation of the building, to the thermal inertia of the building materials, the flexible use of the fabric, the heating of the floors through the solar collectors placed on the roof, the photovoltaic and geothermal systems and last but not least the use of indirect natural light and the choice of bio-compatible and recyclable materials.
The museum involves the hill and extends between the olive trees. Following the trails from the museum visitors can be lead to another scenary where artworks are placed in suitable spaces. This site will be subjected to both permanent and temporary exhibitions. On the opposite side, towards the ring road, a sculpture that rises above the trees will inform travelers about the presence of the museum.